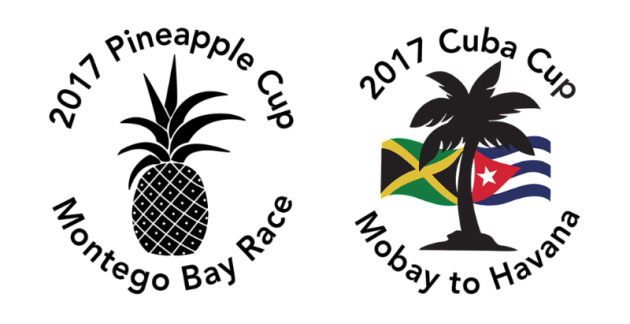 Montego Bay, Jamaica (May 16, 2016) – The Montego Bay Yacht Club, the Storm Trysail Club and the Hemingway Yacht Club announced today the 2017 Western Caribbean Series. The Western Caribbean Series will include the 33rd edition of the Pineapple Cup – Montego Bay Race and the Cuba Cup, a new race from Montego Bay to Havana following the conclusion of the Pineapple Cup.
The Pineapple Cup is set to start in Miami, Florida, on February 3, 2017 and send competitors on a challenging 811 nautical mile course to Montego Bay, Jamaica.  Following a brief stop-over and Awards Ceremony in Montego Bay, boats may elect to sail in the newly formed Cuba Cup, a 640 nautical mile race from Montego Bay to Havana set to start on February 17th.
The two events will include divisions for IRC, PHRF, double-handed and multi-hulls. Both races may be registered for and raced independently, however there will be an overall series trophy awarded in Havana to the boat with the best combined corrected time.
The Pineapple Cup will award the Robert McNeil Mobay Course Challenge Trophy to the first monohull to break the Montego Bay Race Record of 2 days, 10 hours, 24 minutes and 42 seconds set in 2005 by Titan 12.  In addition, the Silver Rose Bowl (1st monohull to finish), Silver Pineapple Cup (1st overall corrected time IRC), Silver Seahorse (1st overall correct time PHRF), Arawak (1st overall corrected time multihull) perpetual trophies will be awarded at the prize giving. The Jamaica Tourist Board Log Award will be awarded to the team with the most interesting log.
Montego Bay Yacht Club Commodore Nigel Knowles, "As commodore of the Montego Bay Yacht Club, I am very excited to be able to announce the 33rd running of the prestigious Pineapple Cup-Montego Bay race.  This event first started in 1961 and has been run either annually or biannually ever since.  Having taken part in 2 of these races myself, I have first hand experience of the pure excitement and strong competition this 811-mile race from Florida offers to crews and spectators alike. 
With the addition of a brand new second race starting from Montego Bay and finishing in Havana, Cuba a short time after the racers complete the Pineapple Cup race, it will offer a new thrilling addition to our historic race and herald in the start of the new Western Caribbean Race Series which we plan to run and expand on each time we host our legendary race."  
Storm Trysail Club Commodore Lee Reichart, "The Pineapple Cup has long been central to Storm Trysail Club's mission, 'to encourage the sport of ocean racing'.  We are excited to be again partnering with the Montego Bay Yacht club to reinvigorate this classic race.  We think there is great potential in the new Cuba Cup, applaud Montego Bay for expanding its offerings and look forward to the series becoming a staple in the offshore calendar for years to come."
For more information, please visit: http://pineapplecup.com