They will probably finish in first and second in the 1380 nautical mile race in what is a small fleet of only six boats. But it will be only one small achievement for the pair in what has been a lifetime of success on the water.
The most notable was a journey they embarked on together in 2005 from Hobart south of New Zealand to Argentina via the famed Southern Ocean and Cape Horn. A few years later – Malcolm and wife Joan took four years circumnavigating South America – the pair then sailed from South America to Fremantle across both the Atlantic and Indian Oceans in one hop.
They called it cruising, most non-sailors would call nothing short of arduous.
"The challenge of Cape Horn is something I always wanted to experience," said Malcolm Dickson, a former yacht designer and boat builder from Nelson. "I have always read about the clipper ships and early races like the Whitbread [round the world yacht race] and it's something Hamish wanted to do as well. We saw it as a challenge.
"In 2005, Hamish and I were in Sydney and went down to Hobart with the intention of doing the Cape Horn run with a crew Hamish had organised in Australia but none of the crew turned up. Hamish and I said, 'bugger it, we'll do it ourselves'.
"It was a great experience. We certainly saw the Southern Ocean not at its worst but at 60 knots plus. The day we got to Cape Horn it was 60-odd knots so that was pretty challenging. But we had a good boat for it and were pretty conservative, pretty careful and don't take risks. We take a lot of pride in the fact we have done all those miles and never asked anyone for help."
They're not likely to need assistance in the solo trans-Tasman race, which has been running since 1967. The pair have the two biggest boats in the race that goes from New Plymouth to Mooloolaba on the Sunshine Coast and Hamish has done three circumnavigations of the globe.
Malcolm competed in the infamous race of 1978 when it had the biggest fleet of 16 boats but also struck some nasty weather. One competitor, Bill Belcher, hit Middleton Reef and was eventually found in his life raft 28 days later.
Malcolm always intended to compete in the solo trans-Tasman race again and the circumstances around lining up for this year's edition are almost serendipitous.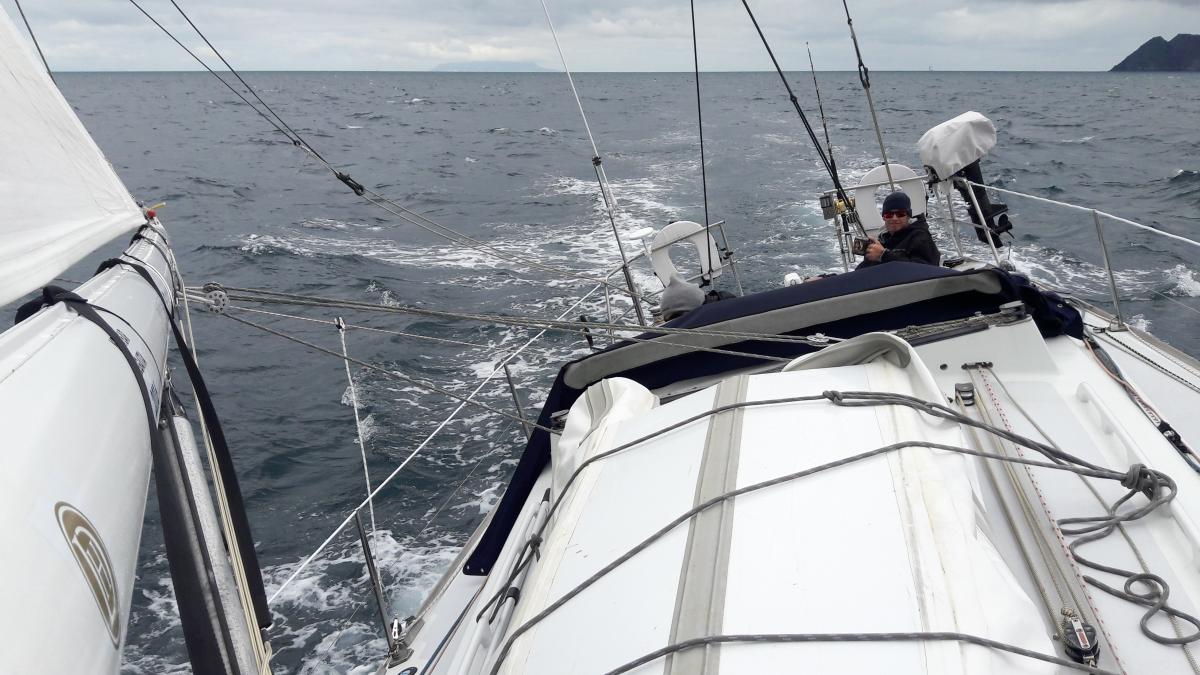 Hamish will race in the boat his father built and the one he and his sister Linda, who competed at the 2004 Athens Olympics, grew up on. An opportunity to buy back Zenith, a 45-foot sloop, came up and Hamish and his wife jumped at the chance to get it back in the family.
"Sailing on her is like being with an old friend you haven't seen in a while," Hamish told Boating New Zealand. "You get acquainted pretty quickly.
"It will be pretty special to say I've done it with my old man. For me, it's one of those bucket-list things that's always been at the back of my mind. Having Dad share the journey, even if he is on a different boat, is pretty cool as well."
The first priority is to get to Mooloolaba safely but there will also be a competitive element to the race. The light-wind forecast could favour Hamish in his shorter and lighter boat but, as Malcolm says, "I will definitely be out to beat my boy".
"Both would be disappointed if one of us ends up third," Malcom said. "We're very determined one of us will get there first but which one I don't know.
"Managing sleep and making sure you keep the boat close to its potential in the conditions [is important]. It's pretty tiring and he's a bit younger than me. At 71, I feel really privileged to have the health and fitness to even consider doing it."
It doesn't sound like Malcolm has any intention of dropping anchor for extended periods. He lives on his boat with Joan in Opua, Northland, but they're often charting where to go to next.
"My wife keeps reminding me we haven't done the top half of the world. She's keen to go to Canada and Alaska so they're still on the bucket list.
by Michael Brown