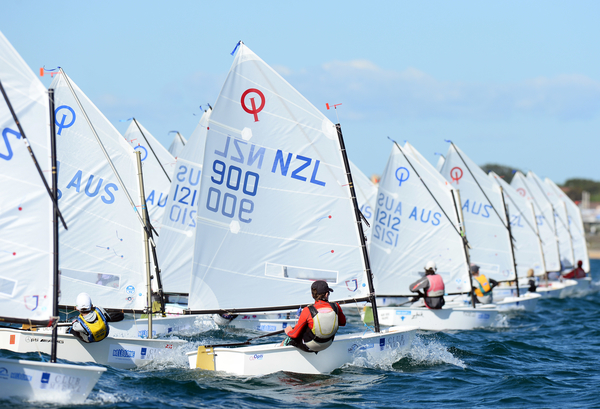 The Notice of Race and Online Entry for the inaugural Optimist Nations Cup have opened today, Thursday 8th October 2015.
Expressions of interest for the Optimist Nations Cup have smashed expectations of event organisers with responses coming from all corners of the world. Countries such as the United States, Hong Kong, New Zealand, Japan, Taiwan and Brazil are all interested in creating a team and competing for their Nation. Teams of six can now enter for the event by registering online via the ISAF SWC – Melbourne website, with entries for the Nations Cup closing at 0900hrs on the 10th December.
To register for the event Optimist sailors must first register for the ISAF SWC – Melbourne regatta. Once all members of the same team have entered the ISAF SWC – Melb regatta, one representative can then enter their team of six for the Optimist Nations Cup. The cost per team comes to $60AUD. More than one team per country may be entered but athletes may only compete for one team at a time.
The total points, excluding any discards, from the fleet racing series of the first five boats in each team shall be added together and the team with the lowest total score wins! More information on this process including regulations can be found as a Sailing Instructions Amendment.
The Optimist Nations Cup can support travellers to the regatta with references of accommodation and boat charters. Teams must consist of 6 sailors and 2 adults, who must accompany the team as team representatives.