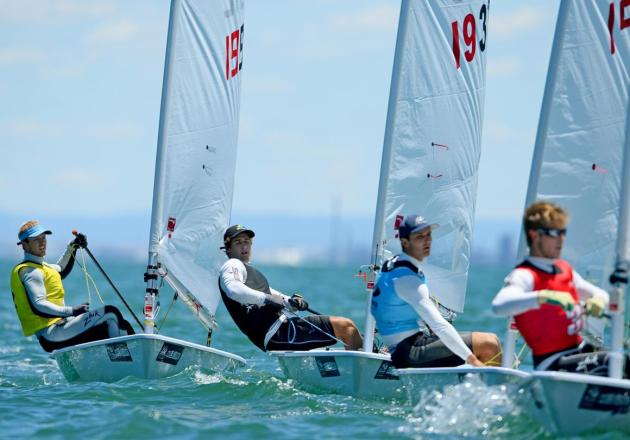 There are currently six places left available in the Laser Standard Class, leaving only a matter of time for sailors to secure their spot at the 2015 ISAF Sailing World Cup – Melbourne. 
Event organisers are now predicting that the Laser Radial Class will not exceed the 40 athlete quota and suspect the same in the Laser Standard Class. As these numbers will not be enough to substantiate a qualifying regatta, a warm-up regatta will replace the aforementioned event.
The warm-up event, previously called the Laser Qualifying Regatta, will now be open to all Olympic and Invited Class Laser sailors. Any sailors who register outside the 40 available positions will now only have a chance to compete in the Olympic Class if cancellations arise and invitations to fill these cancellations will be based on the results of the Warm-Up Regatta. Sailors previously registered under the Laser Qualifying Regatta status have the opportunity to withdraw and be refunded if they choose.
Melbourne's ISAF Sailing World Cup, December 7-13, is the Oceanic Olympic qualifier for next year's Rio Games and countries including the Cook Islands and Papua New Guinea aren't subject to the capped quota as the world governing body ISAF guarantees them at least one place.
ISAF Sailing World Cup – Melbourne event director Mark Turnbull OAM says, "The warm-up regatta contains all the components athletes need for a true test event prior to major competition and will offer our international sailors some valuable time getting to know Port Phillip's sea-state and typical summertime breezes before battling it out in the Sailing World Cup. 
"Additionally it gives some of the younger and local sailors who may be competing in other classes later in the week, such as the Laser Radial boys or 4.7s, a chance to size up against some of the best sailors in the world, outside of the Sailing World Cup format."
Melbourne is the first stop and the only southern hemisphere chapter of the 2016 ISAF Sailing World Cup spanning six countries. Click here to view the current entries for the ISAF Sailing World Cup – Melbourne. Countries represented in the well-subscribed Laser Standard class list include Australia, New Zealand, Canada, Singapore, USA, Sweden, Italy and Russia. In the Laser Radials the fleet so far represents Australia, Canada, New Zealand, Belarus and the Cook Islands.
Please contact the Regatta Manager, events@yachtingvictoria.com.au, if you have any questions or would like more information.